Santa Ynez Valley Community Outreach is inviting community members of all ages to lace up their sneakers and join in the fun as participants walk from Buellton to Santa Ynez, raising money and awareness for the local Meals on Wheels program on Friday, March 17. The funds raised from this special event will directly benefit the local program, which has seen food costs increase 300% since October 2022.
Participants will begin the 14 mile walk at Buellton Senior Center at 9:00AM, and will enjoy refreshments at hosted stops along the way including Solvang Park, Holy Grounds Café, Summerset Farms, and Dennee's of Santa Ynez. Everyone is welcome to join for all or part of the route, and can get the walking map and refreshment stops below or by calling 805-688-4571.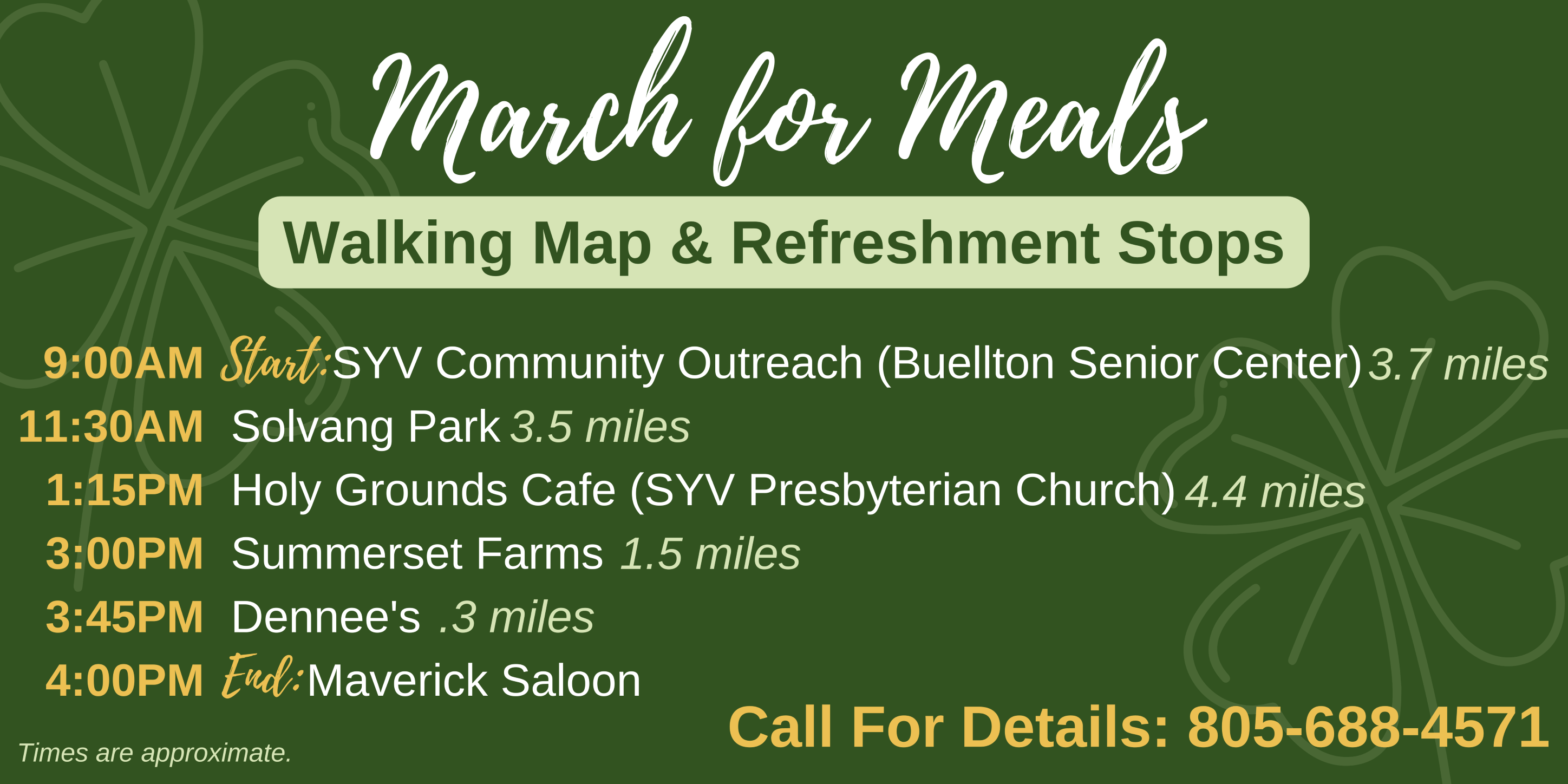 The final destination is Maverick Saloon, where everyone is welcome to enjoy a buffet dinner and live music by Bill Agin & Territorial Law from 4:00PM-7:30PM. Dinner tickets are $25, and include one drink ticket for a beer or well drink. Space is limited and presale tickets can be reserved by calling 805-688-4571. There is a 10% discount for veterans and seniors 65+.

The Dinner Menu Includes:
BBQ Chicken
Ranch beans
Salad
Garlic bread
Desserts
This will be the second time March for Meals, an annual event recognized nationwide, comes to Santa Ynez Valley streets. Last year's event raised $7,000 to support operation of the local services, and raised awareness for the vital senior nutrition program and its importance to the local community members who rely on it.
According to Meals on Wheels America, this year's March for Meals celebration comes at a time when eight out of ten local Meals on Wheels programs are still delivering meals to more older adults than they were prior to the pandemic, and operational and food costs are still soaring even while inflation slows. This hits home here in the Santa Ynez Valley.
Currently there are 409 individuals enrolled in the Santa Ynez Valley Meals on Wheels program, up from 305 individuals before the pandemic. Santa Ynez Community Outreach prepares and delivers these daily meals throughout the Santa Ynez Valley and up to Los Alamos. You can help support this vital nutrition program by sponsoring or participating in March for Meals, or by making a donation directly by mail to: SYV Community Outreach - P.O. Box 1946, Buellton, CA 93427.